Our church is used by several outside groups for meetings. We host two Narcotics Anonymous groups, one Overeaters Anonymous group, a Post-Polio Syndrome group, and a Girl Scouts meeting.
Zumba
Free Zumba classes meet on Wednesdays, 7:00 PM – 8:00 PM. The classes are led by licensed instructor RoseAnn Ting.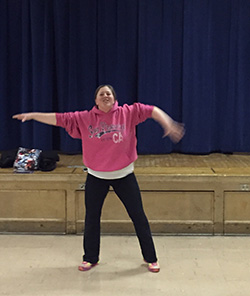 Zumba is a total workout, combining all elements of fitness – cardio, muscle conditioning, balance and flexibility, boosted energy and a serious dose of awesome each time you leave class.
Zumba is pretty much the most awesome workout ever. Dance to great music, with great people, and burn a ton of calories without even realizing it.
RoseAnn is an encourager who exercises so intently she is a blur to most cameras.
All are invited to come and participate.
Literacy/ESL
There are 160,000 functionally illiterate adults in the Metro Milwaukee area. We are here to help.
Our Adult Literacy Program has been helping adults for more than 18 years to:
Learn basic reading skills
Learn English as a second language and/or
Achieve their GED
Our trained and experienced tutors freely offer their help to motivated adults. If someone you know needs our help please encourage him or her to call to schedule an interview for placement.
We encourage adults who need our help and those who would volunteer to help, please call either the church office 414-774-55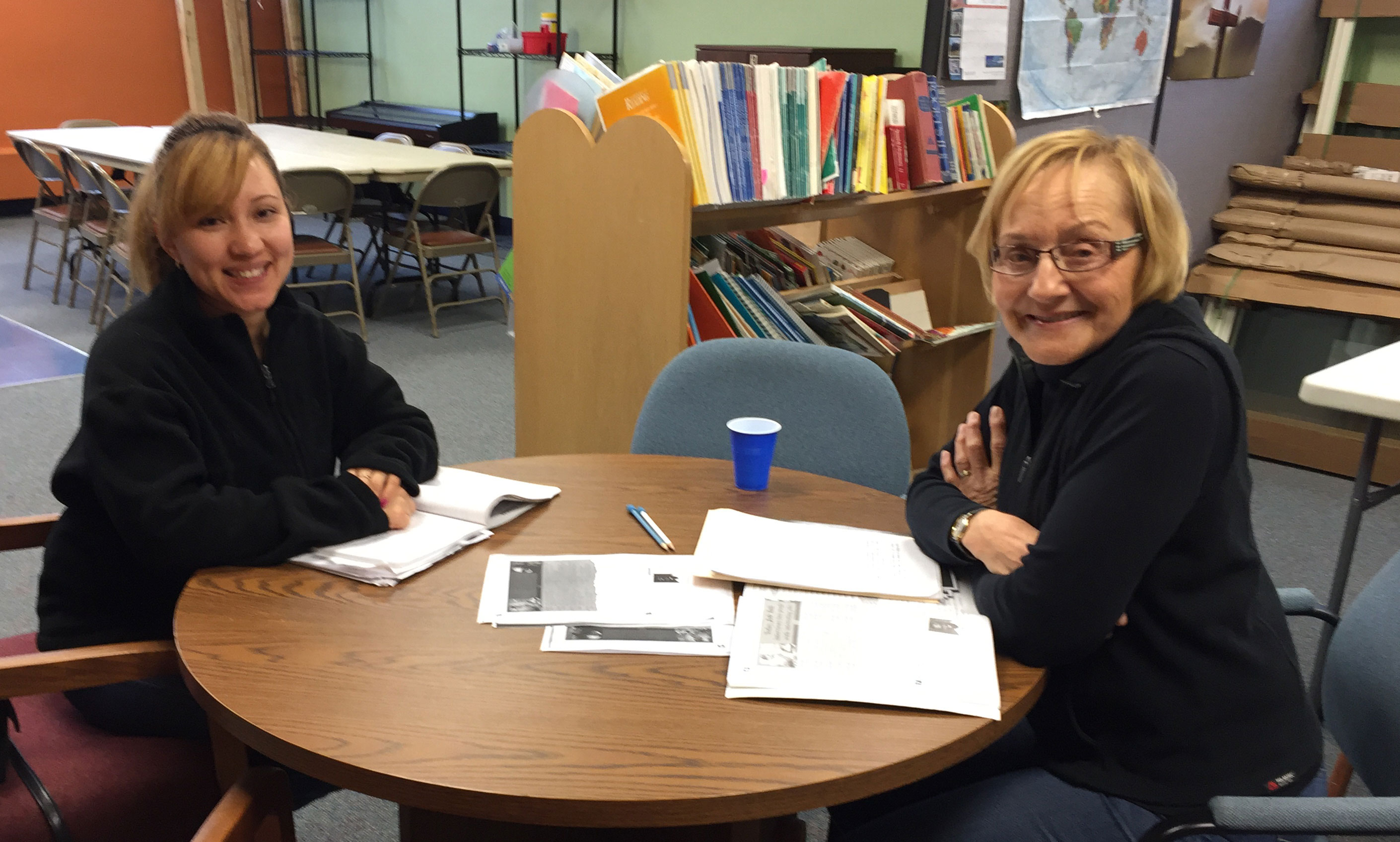 00 or Karen Jesse, Program Manager at 414-258-7461.
If you are an adult who can read, would like to help others learn to read, and have one or more hours per week to give, we will train you. Hours are arranged Monday to Friday to fit tutor's and student's schedules.
Food Pantry

Our Food Pantry is located at our church, 7520 W. Lapham St., West Allis. We are here to service persons with an emergent food need. The Pantry hours are as follows:
Every other Wednesday from 3:00 to 5:00 pm. Recipients receive 2 bags of food plus optional food and personal care items. Between 10 and 30 family units are served each time. For Pantry Information call 414-774-5500 (church phone).
Angel Tree
Every child has a story. For 2.7 million American children, that story is filled with the abandonment, loneliness, and shame that come from having a mom or dad in prison. For many, it may also include following their parents down the same destructive road to incarceration.
Angel Tree, a program of Prison Fellowship, reaches out to the children of inmates and their families with the love of Christ. This unique program gives us an opportunity to share Christ's love by helping to meet the physical, emotional, and spiritual needs of the families of prisoners. A Christmas tree is decorated with angels that have the name and pertinent information about a child of an incarcerated parent. Those who take an angel from the tree give a desired Christmas gift to the child through Prison Fellowship.
In Milwaukee and hundreds of other American cities this Christmas, forgotten victims of crime will receive gifts from people they've never met. These victims are the children of men and women in prison. They will benefit through Prison Fellowship Angel Tree, a program sponsored by Prison Fellowship, an interdenominational Christian outreach, and FUMC of West Allis.
Select one or more angel gift tags from the tree. The gifts need to be purchased, wrapped, and returned to church.
Mitten Tree and Socks for the Homeless
These programs collect winter wear for children and socks for the homeless. They are distributed through a charitable organization.
Thanksgiving Baskets
Each November with the support of other churches, individuals and businesses in our community, and our local schools we distribute Thanksgiving Baskets to marginalized families. Each basket includes all that is needed to provide a traditional American Thanksgiving meal: 10 to 12 pound turkey or 3 pound chicken, a 10-pound bag of potatoes, dinner rolls, canned corn, cranberry sauce, sweet potatoes, pumpkin puree, fresh celery and carrots, stuffing, a powdered drink mix, margarine, a cake mix, sandwich cookies, whipped topping, and a donated non-perishable item.
For Thanksgiving 2015 we gave away 180 Thanksgiving baskets.
Second Saturday Servants
Our Mission Committee at FUMCWA began Second Saturday Servants to create an opportunity for our congregation to regularly go out into the world and serve along with other disciples in missions where we have provided monetary support. We seek to use our hands alongside others.
The first ministries the group worked with were United Methodist Children Services, Northcott Neighborhood House, and  at the Milwaukee Rescue Mission.
"These opportunities to go out into the world really help us to grow.  Of this, I am sure.  Second Saturday Servants provides a meaningful way to serve God by serving those in need. Everyone is welcome to participate; you do not have to be a church member. Workers may choose from one or two projects that typically last two to four hours. You can choose from projects that will take place at the church or beyond the church walls in the area."
-Thomas Bolton
Our Second Saturday Servants now serve in a wide variety of programs that serve the poor. Together, they are making a difference in the lives of those in need. We support the following ministries with hands, our hearts, and our pocketbooks.
Larry Under the Bridge
Learn more about Larry Under the Bridge
Divine Intervention is a collaborative ministry of over 46 intra-faith communities including First United Methodist Church of West Allis. Divine Intervention is spearheaded by Tippecanoe Presbyterian Church. We serve their Larry Under the Bridge ministry once a month.
52 Sundays a year…and now also Mondays, Larry Under The Bridge brings significant bagged dinners and basic supplies to local campers/homeless in our area.
It's just what we do.
Larry Under the Bridge is a food and encouragement ministry to the homeless in the Bay View area. Significant bagged dinners and basic supplies are delivered to strategic locations near campsites on Sunday evenings every week and now also Mondays. Larry UTB helps 30-50 people each Sunday and Monday night of each week. Each dinner consists of:
2 sandwiches
Granola/breakfast bar
2 pieces of fruit
Cookies or other desert item
Occasionally chips
Bottled water
In the summer months juice boxes, Gatorade, and extra waters are given out. Bug spray, camouflaged tarps, and sleeping bags are some of the other items handed out when available.
In the winter months gloves, hats, and long underwear were also supplied to campers. Donated toiletries, socks, underwear, toilet paper are handed out year-round.
Through Larry Under the Bridge we are changing the world, one person at a time!
The homeless who we are coming to know as friends are changing!
Our church members and ministry are changing!
Mineral Street Programs and Services
Learn more about Mineral Street Programs and Services.

We serve once a month in Mineral Street's Morning Glory program for the homeless.
Morning Glory
Begun in July, 2008, now serves an average of 120 homeless and low-income people a hot breakfast, and offers showers and clean clothes every Saturday morning. Presently the program is completely volunteer-run and funded through charitable contributions. Located on Milwaukee, Wisconsin's near south side, Morning Glory is one of only a few places the homeless in our community can go for help. Our intent is to expand Morning Glory to be able to offer additional meals, shelter in inclement weather, job counseling, and other services.
We currently do not have a location. We used to be out of Iglesia Trinidad on 2300 W Mineral Street but that church has been closed and the building sold. We are now looking for a new location. In the meantime, we are renting the pavilion at Clark Square Park.
God's Kidz in the Hood
Learn more about God's Kidz in the Hood
God's Kidz in the Hood builds healthy relationships with children and youth that come to the ministry by walking with them through life and strive to see them succeed spiritually, emotionally, socially and academically. Other services are also provided:
Support for the Poor and the Homeless
Providing material needs including, food, clothing, shelter, transportation, and medical needs.
Business Training and Work Ethic Development
Developing a work ethic in unemployed youth and adults through rewards for volunteer work.
Community Development
Supporting volunteers in the community and organizing service projects.
Prison Support
Providing personal items for prisoners, and bringing their families for visits.
Educational and Enriching Trips
Providing a range of opportunities for children and youth to experience other cultures, regions, and activities in and around Milwaukee.
Milwaukee Rescue Mission
Learn more about the Milwaukee Rescue Mission
We provide regular support for the Milwaukee Rescue Mission.
Milwaukee is the second poorest city in America 6, with a poverty rate over 29 percent. That's more than 170,000 poor people in our city. Many are just one bad break away from joining the already 1,500 homeless folks on our streets — and some estimate the number may be twice that high. Over 13 percent of our workforce in Milwaukee is unemployed; for African-American men, that number is an astonishing 34 percent! Nearly half of Milwaukee's children — 43 percent — live below the poverty line.
That's more than 67,000 kids going without some of life's basic needs, every single day. More than four out of five children (83%) in Milwaukee Public Schools qualify for free or reduced meals.
Repairers of the Breach
Learn more about Repairers of the Breach
We provide regular support for Repairers of the Breach which provides Greater Milwaukee's only daytime refuge and resource center for homeless adults.
Located at 1335 W. Vliet Street in Milwaukee's central city, the Repairers of the Breach Center is open from 7AM to 4PM, Monday through Saturday.
Their daytime sanctuary is an empowering place where homeless and at-risk men and women create community and a sense of "ownership" in their center. They work together to find solutions to homelessness using our "constellation" of free resources—all in a nurturing and non-judgmental context emphasizing "homeless helping homeless."
Greater Milwaukee Free Clinic
Learn more about the Greater Milwaukee Free Clinic
We have supported the Greater Milwaukee Free Clinic since its beginning in 1992. We are one of the biggest supporters of this clinic.
As you can imagine, the financial needs are greater now than ever. More and more folk are finding themselves without medical insurance and few options when they or loved ones become ill. The Clinic is their only hope. Our support provides free medical and pharmaceuticals to low or no income people who do not have health insurance.
United Methodist Children's Services
Learn more about the United Methodist Children's Services
Northcott Neighborhood House